Jessy Judaica Blog
Posted by Jennifer on
The mikveh (also pronounced mikvah) is an ancient tradition in Judaism that has been used for centuries. The most widely known and accepted usage of the mikvah is for purification by the woman who has finished her menstrual cycle, seven days afterwards. However, the mikvah is also a tradition of cleansing and introspection on the wedding day. Used by Jewish brides, the tradition is also widely used by grooms as well.
The Jewish bride has historically participated in a mikvah, which is a ritual bath, within four days of the wedding date. A mikvah is any body of mayim hayim, running water that meets certain requirements. The easiest way to make sure the mikvah is approved for use is to use find a mikvah that was specifically constructed for Jewish use and approved by a rabbi. The mikvah participant should not wear clothes so there is no barrier between the person and the water. No jewelery, make up, nail polish, or beauty enhancing products should be worn.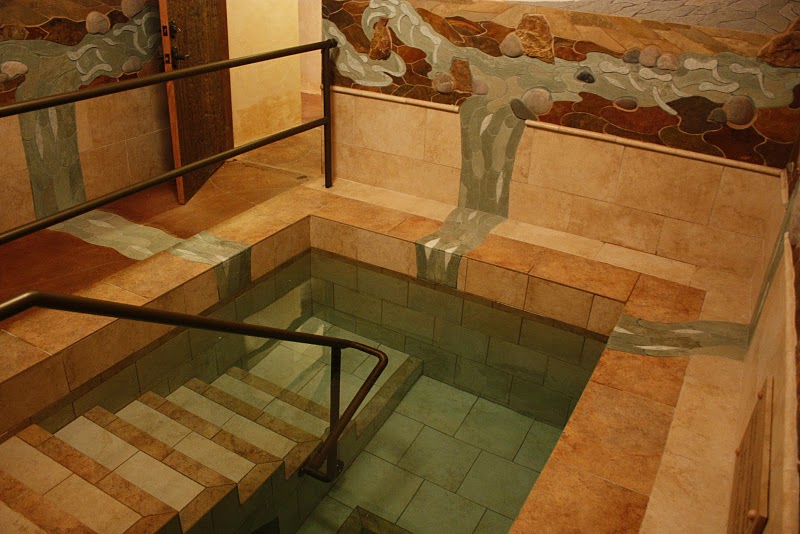 photo courtesy of mikvah.org
If you are traveling for your wedding, make sure to check the global mikvah directory, http://www.mikvah.org/directory. This is a great resource to do your research so you know where you can access an approved mikvah.
Some folks prefer to use natural surroundings for their mikvah. Make sure to check with your rabbi if you are uncertain whether a natural body of water is approved as a mikvah. There are several requirements for the use of a natural mikvah, which can be quite complex at times. The water must be deep enough so that you can immerse your entire body at one time (ideally chest high in depth). The hair can not be floating on the surface. On the other hand, the water shouldn't be too deep as you might not be able to touch the bottom or might be afraid of drowning. The best scenario would be to have your rabbi on hand to check the body of water, but communication through email or phone should be enough to provide approval.
Though it is not something that every groom does, many grooms take part in the mikvah tradition as well. Some grooms use the mikvah as a private time of reflection and contemplation before entering into marriage. Others invite close family and friends to share in the mikvah with stories, blessings, and food or drink. In recent times there has been a revival of using the mikvah to mark a transition in life; whether to mark the end of a battle with cancer, the start of a new job, or the union with bride and groom in marriage.
A mikvah is not only a source of purification, but also a tradition of being reborn. Entering the mikvah is an act of letting go of the self and when one exists the mikvah, it is an act of rebirth. Many couples like to celebrate this commitment to each other after both having taken part in their own individual mikvah. The bride and the groom have a chance for individual reflection, thought, and rebirth before joining together to become one.
Personalized or Non Personalized?The first question that should be answered is whether to personalize the kippot for your wedding or bar mitzvah. A custom inscription can be hand sewn on a label or the inside of the kippah with the name of the bride and groom (or whoever the mitzvah is for), event date, [...]
Choosing a ketubah for your wedding can often feel like a daunting task. There are many things to consider including, style, design, text and whether or not you wish to personalize your ketubah. Knowing where to start can seem confusing but it's easier than you think to find the perfect ketubah. To make things even [...]